How to set up an affiliate program for a Squarespace eCommerce store
This article will guide you through how to set up an affiliate influencer marketing campaign for a Squarespace online store. It will take you about 15 minutes to complete, plus any extra customization you want to make.
What is an affiliate program?
For an online store, an affiliate program increases word of mouth and referred revenue. You have a collection of people who promote your store to their audience (through blogging, social media, or personal recommendations). These people are called affiliates, and you reward your affiliates with commissions for sales they refer to your store.
For example, if you owned a jewellery business, you might have affiliates who were popular fashion Instagrammers, people who showcased jewellery on YouTube, or even stylists who recommend your store to their clients in person.
When an affiliate recommends your store to someone in their audience, and then that person makes an order, the affiliate will earn a commission for that sale.
It's a great way to support content creators in your niche, promote your business in a cost-effective way, and build a lot of brand loyalty thanks to network effects.
How do I set up an affiliate program on Squarespace?
1. Sign up for a Peach's account
To set up an affiliate program on Squarespace, we're going to use Peach's. Peach's Affiliate Programs are purpose-built for integrating with Squarespace stores, giving you more customization options and better integrations for tracking referred sales.
If you haven't already, go to the Peach's affiliate programs page and choose your plan. Sign up for your account by entering your name, email, and password.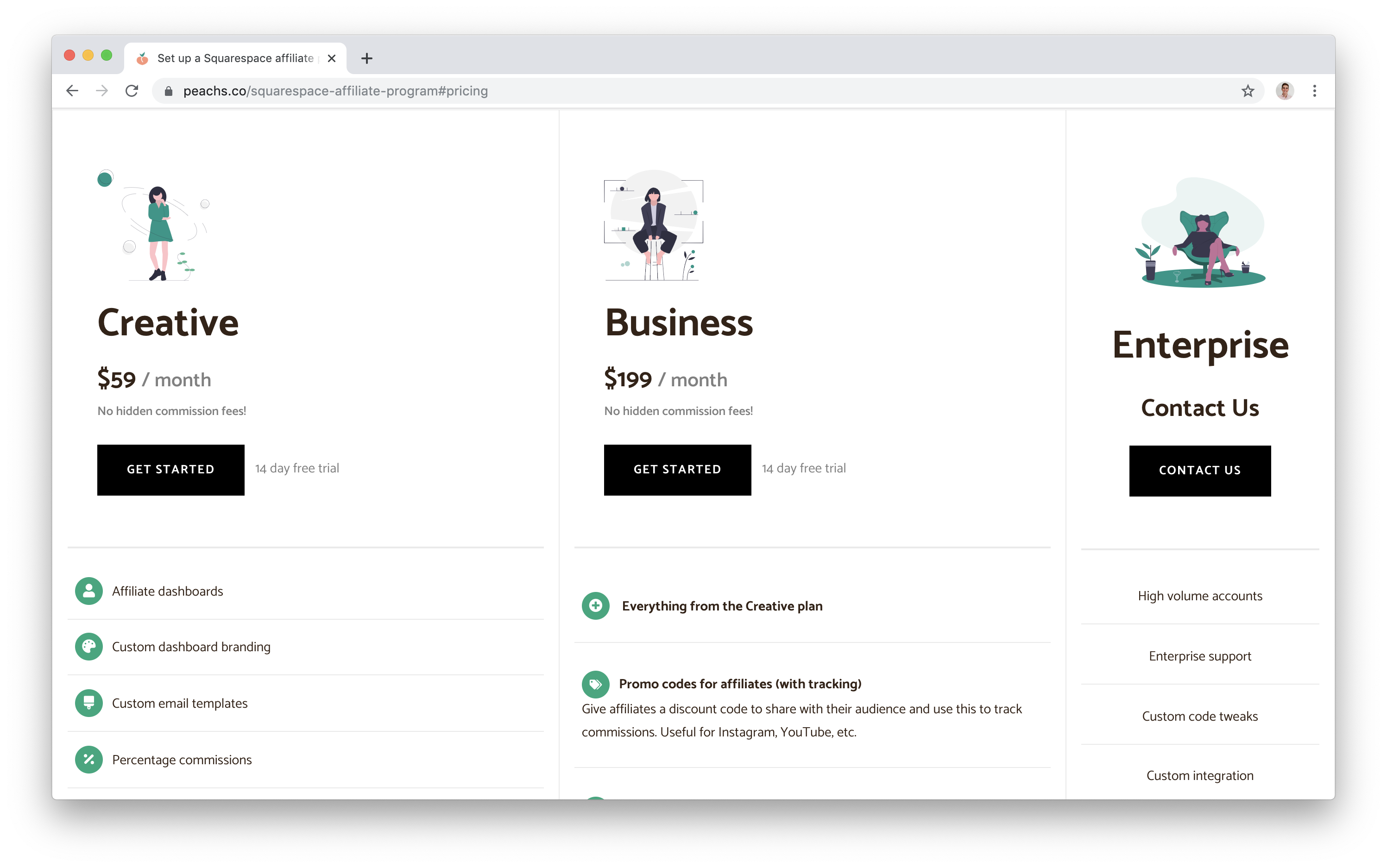 (Not sure which plan you want? Contact [email protected] to get guidance for your business.)
2. Create your program
Now you're ready to create your program. Enter in your program or store name (this will be shown on your affiliate dashboards), add the two different URLs, and set your currency. Set up a default commission that affiliates start off with. In the screenshot below, we're giving affiliates a 10% commission on any referred order.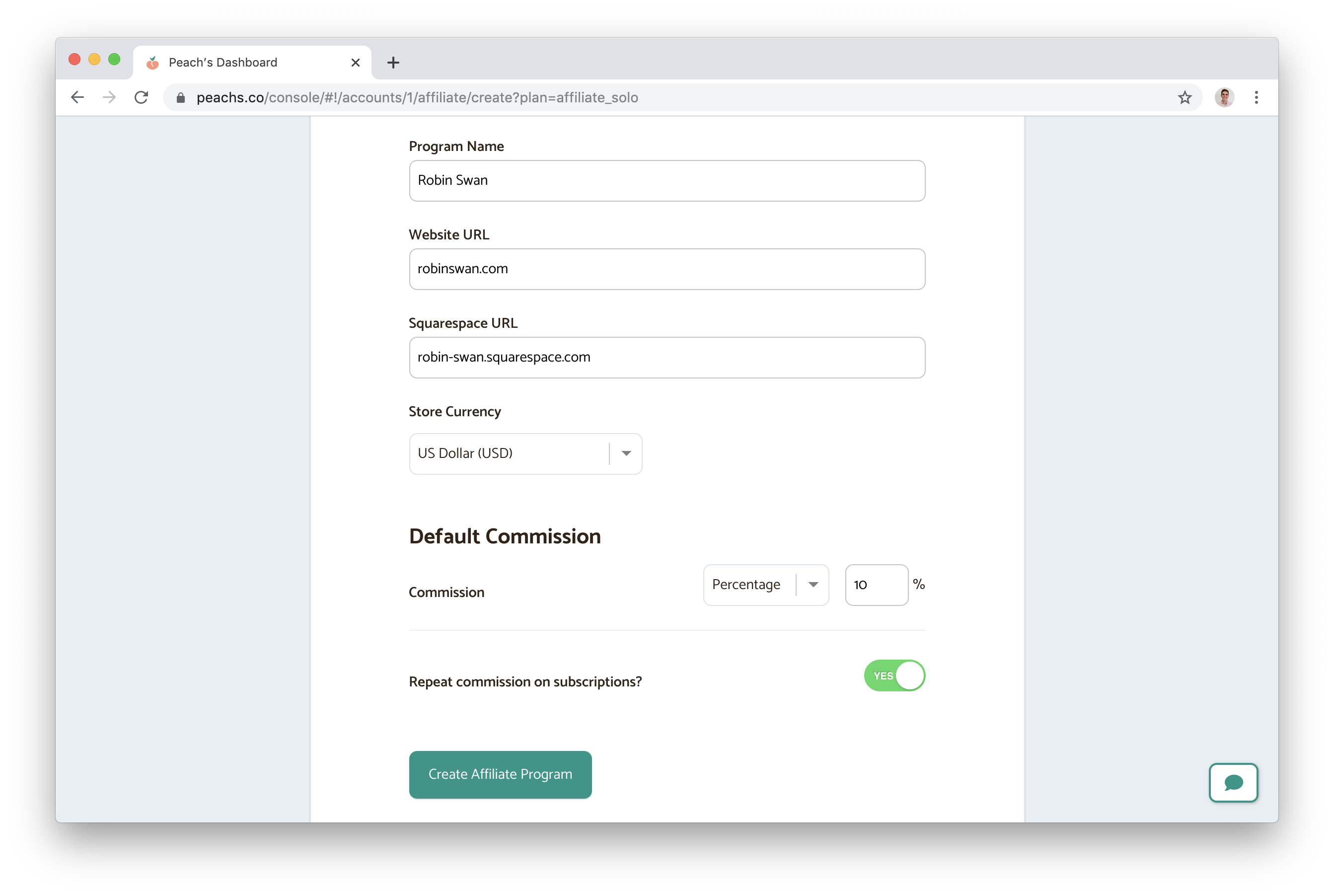 You can run a program with no commissions if you just want to track referrals, give a fixed rate commission on each sale, and tweak the commission for subscriptions. You can also customize the commission on a per-affiliate level later, so if you want to have different commissions for each affiliate, that's possible as well.
Click Create, and your affiliate program will be created. After it's done, you'll be taken to your Dashboard, where you'll be able to see commissions and revenue generated once your affiliate program is up and running.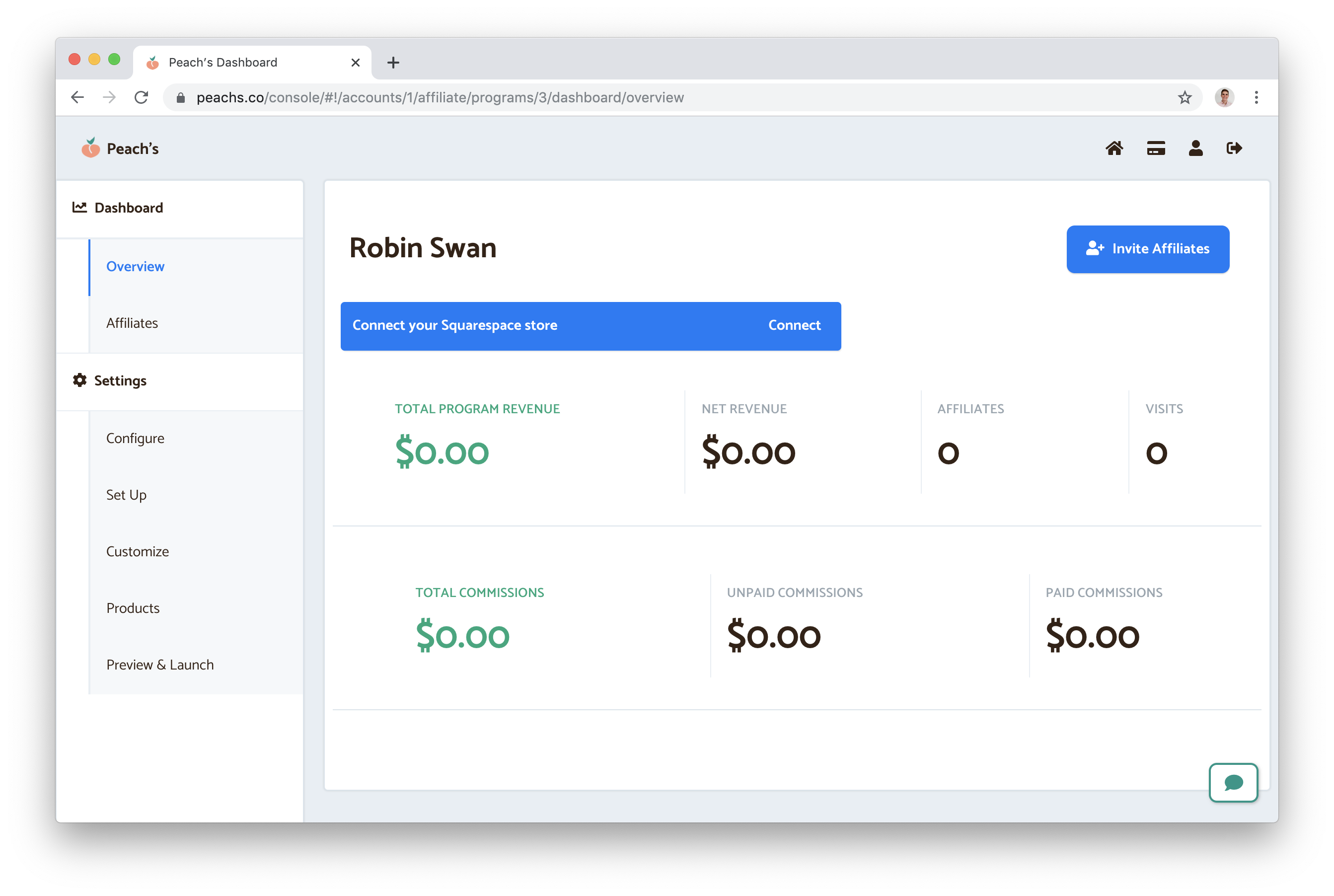 3. Integrate your affiliate program with Squarespace
Click the prompt to "Connect your Squarespace store."
The Peach's website will guide you through the five steps of the setup process. This process enables the integration between your store and Squarespace, including order tracking and adding Peach's scripts to enable tracking. If you have any trouble, don't hesitate to contact [email protected].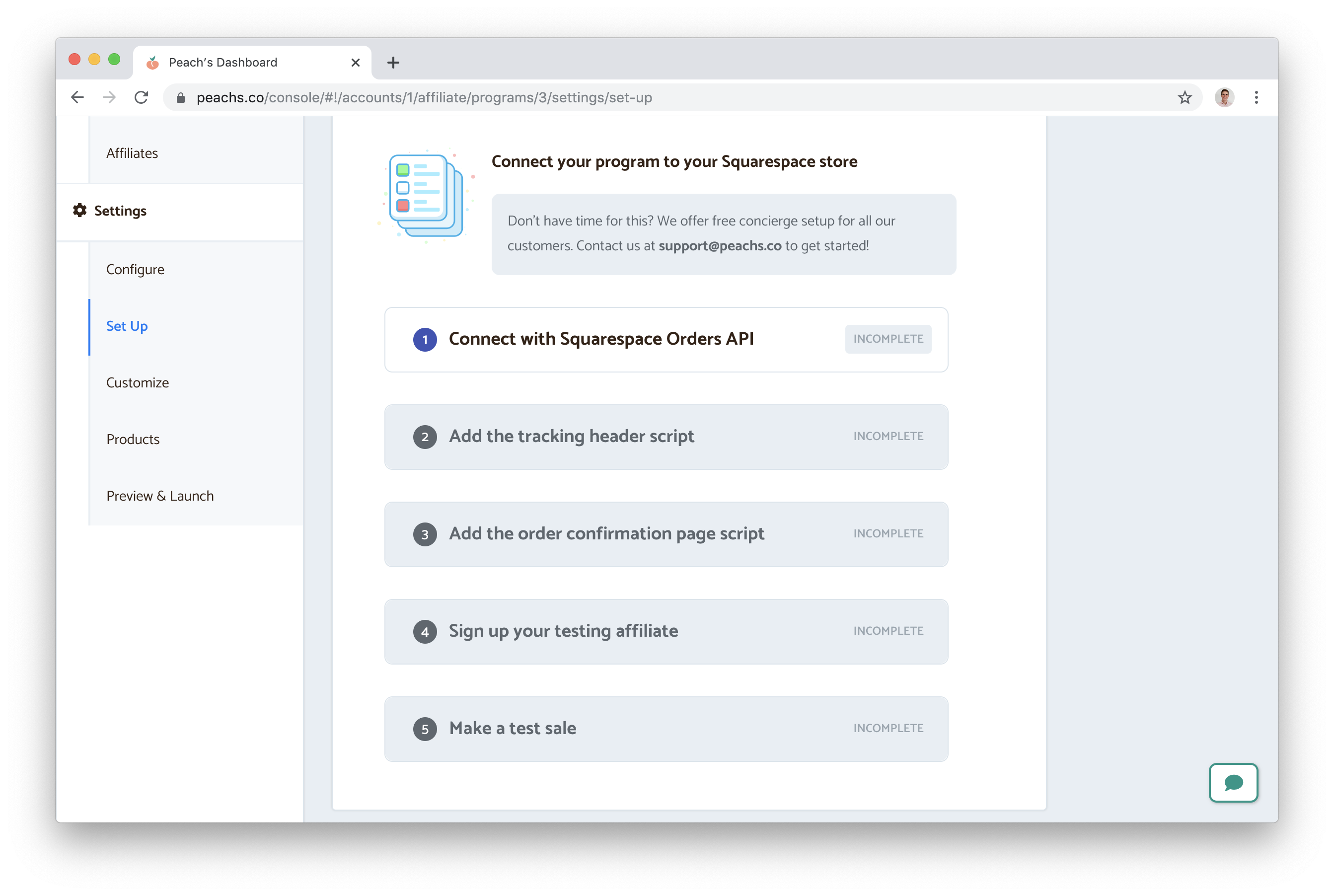 You can simply follow the instructions in the Dashboard. In summary, the steps are:
Connect with the Squarespace Orders API by generating an API Key in your Squarespace settings and pasting it into your Peach's program settings
Add the Peach's script to your Header Code Injection settings in Squarespace
Add the Peach's script to your Order Confirmation Code Injection settings in Squarespace
Create a testing affiliate to make sure your affiliate dashboards are working. Then you approve the new affiliate so they can access your affiliate program.
Place a test sale to check that everything is connected
4. Manage commissions for your affiliates
After you've placed the test order, your test affiliate will have earned a new commission. Navigate back to your Dashboard by clicking the button in the sidebar.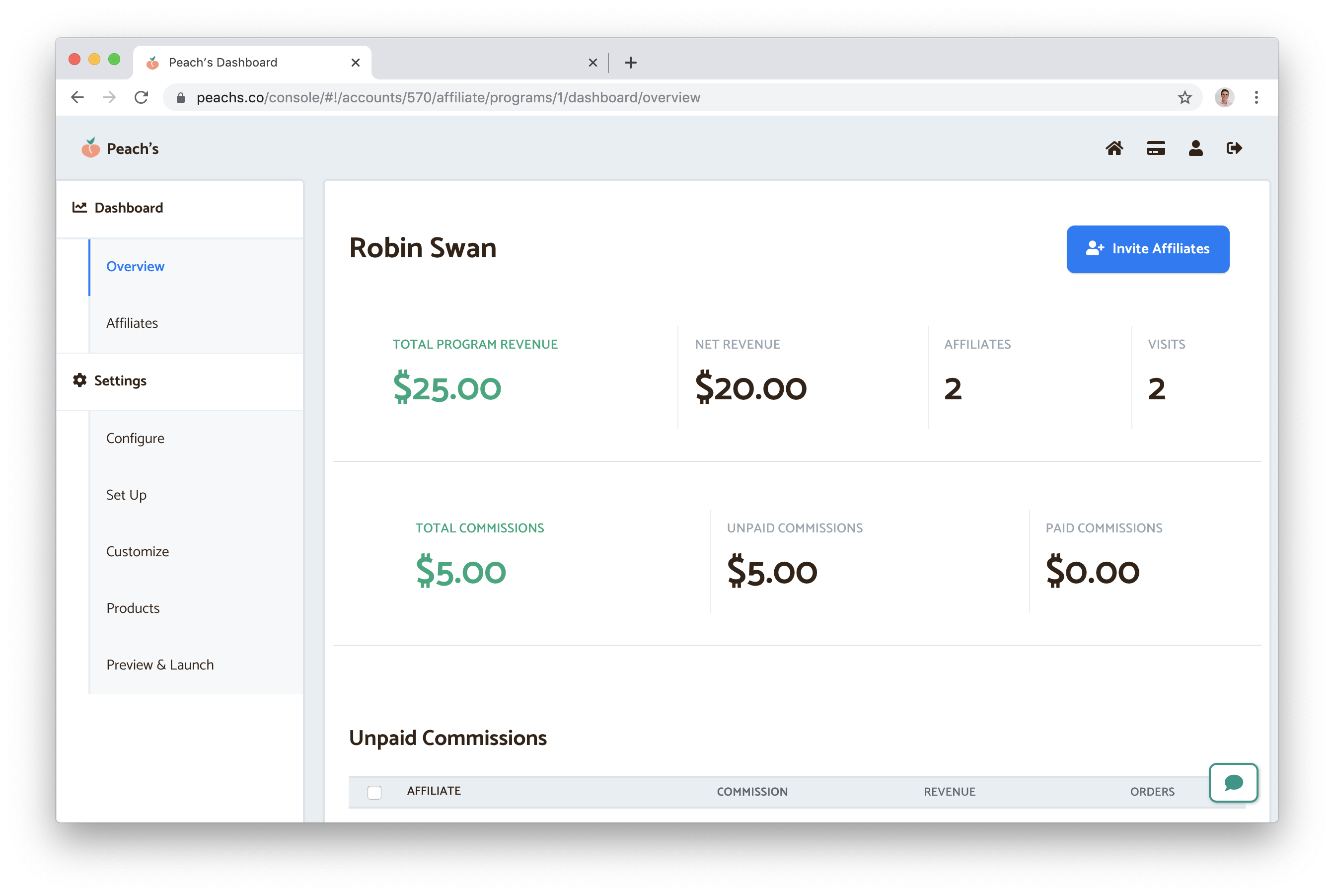 You'll see values added for the revenue and commissions stats, and you'll also notice that you have a new Unpaid Commission at the bottom.
When an affiliate refers a new sale, their commission will be added as an unpaid commission in your dashboard. Periodically, you can go through these commissions and mark them as paid once you've sent commissions to your affiliates via PayPal.
Click the checkbox next to the new commission, and click 'Mark as Paid'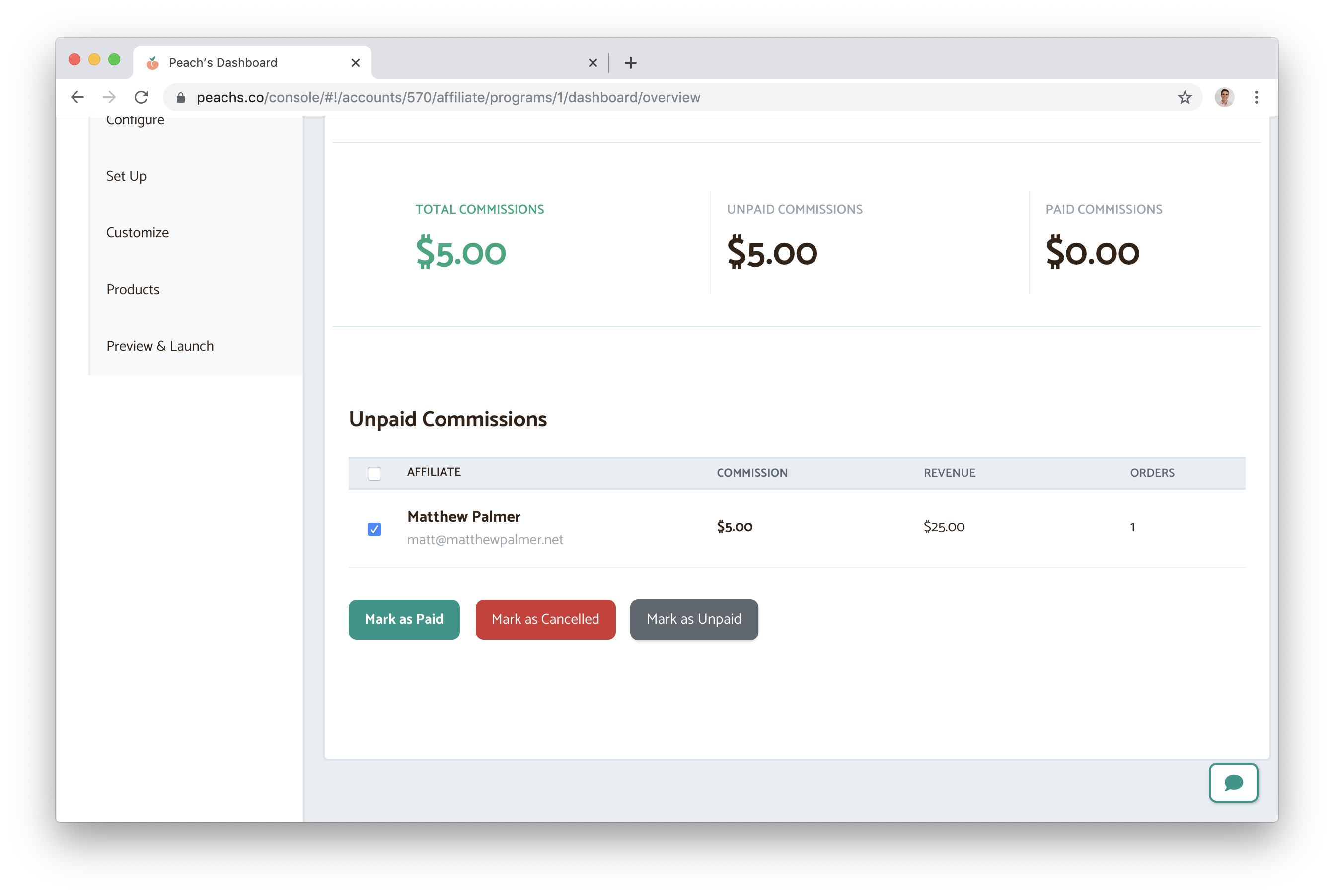 5. Customize your affiliate program
Now that you've set up your program and paid out your first commission, you can customize your affiliate program to match your brand.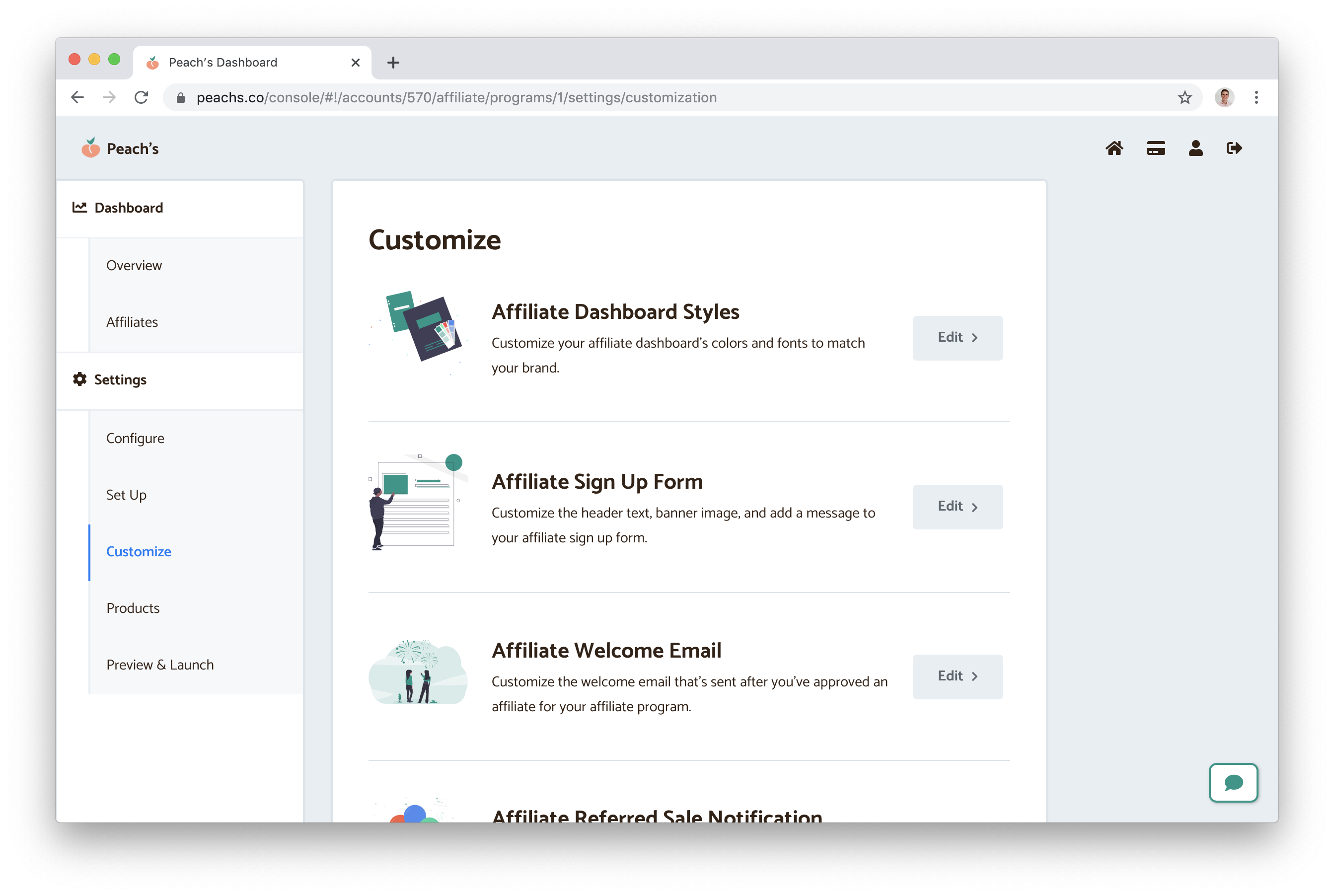 Peach's gives you extensive customization options, so you can tweak your Affiliate Dashboards, your email templates, and your web forms.
6. Launch your program
Once you've finished customizing your affiliate program to your brand, click the Preview & Launch button in the sidebar. This section gives you another chance to review your settings and customize your styles (and you can always change these later).
Click the button to launch your program. Your affiliate program is up and running!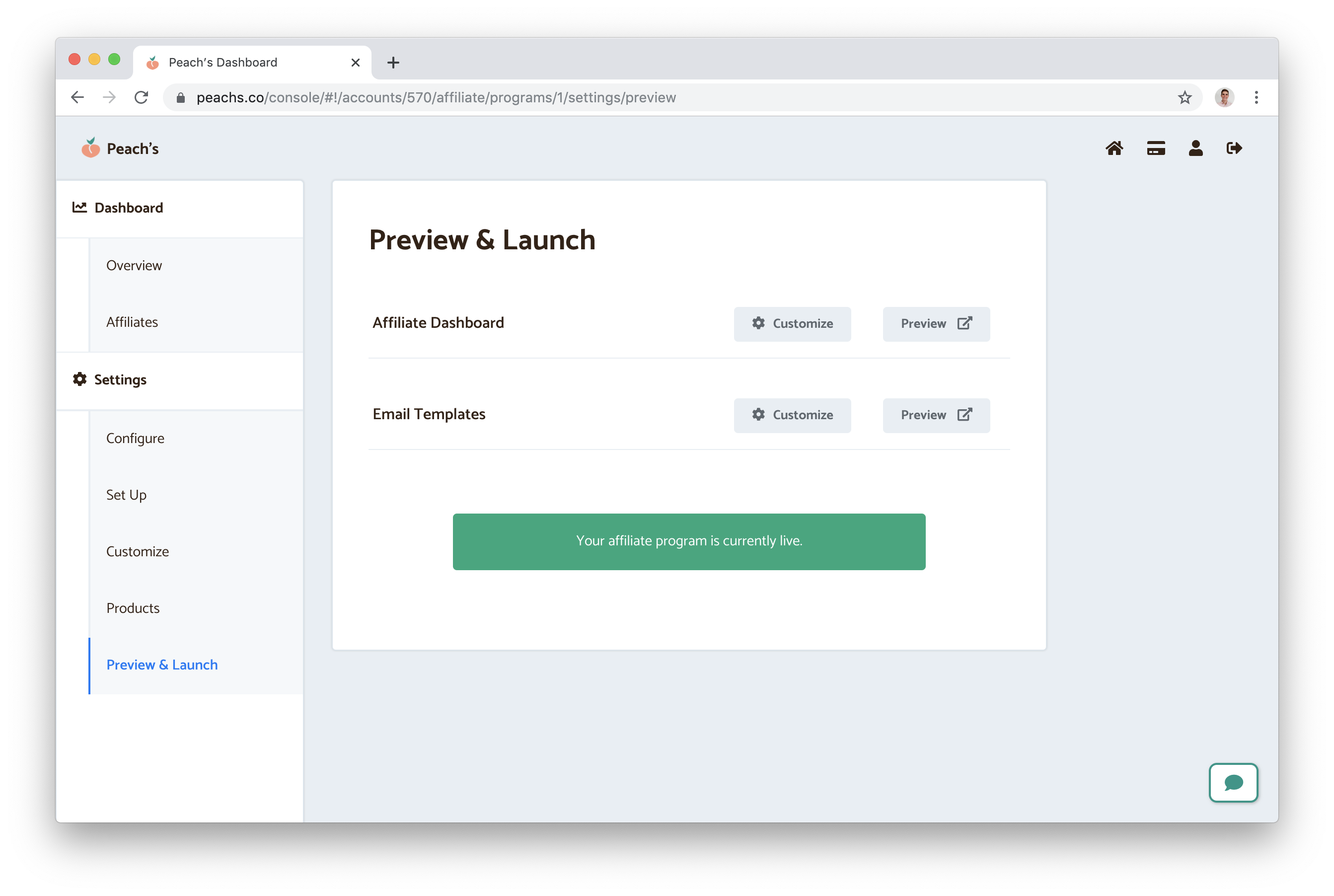 7. Optional – Invite your affiliates
The next step for you is to find affiliates, invite them to your program, and start earning commissions. Go back to your Dashboard, and click the 'Invite Affiliates' button in the top right. You'll then get a button to copy the link to your affiliate program's sign up page. Send this link off to your desired affiliates, they'll sign up, you can approve or deny their requests, and then they'll start sharing your store.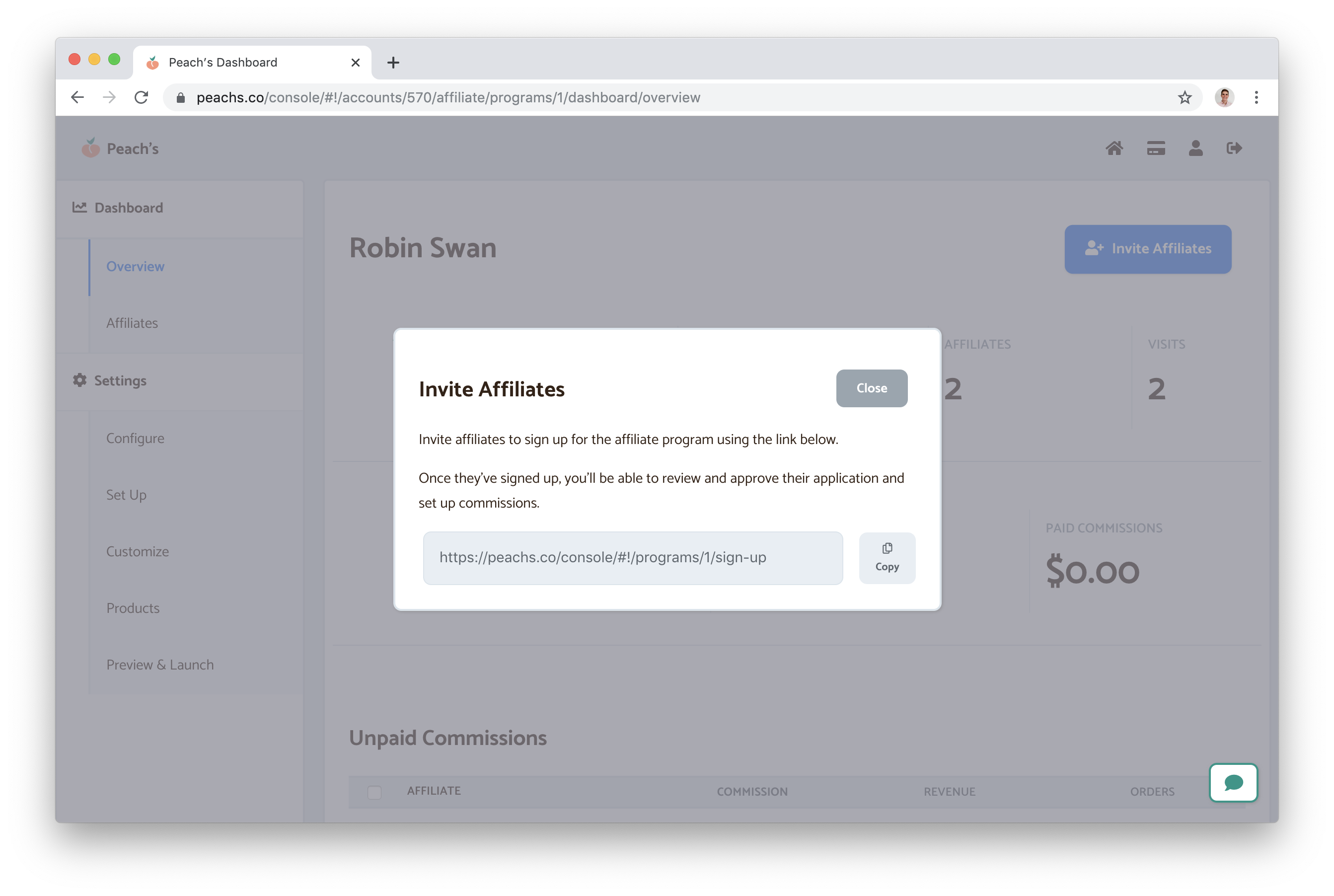 8. Optional – Use the advanced tracking options
Because Peach's integrates exclusively with Squarespace, it offers some advanced tracking options.
By default, every affiliate gets an affiliate link with cookie tracking so they can start sharing your store with their audience immediately.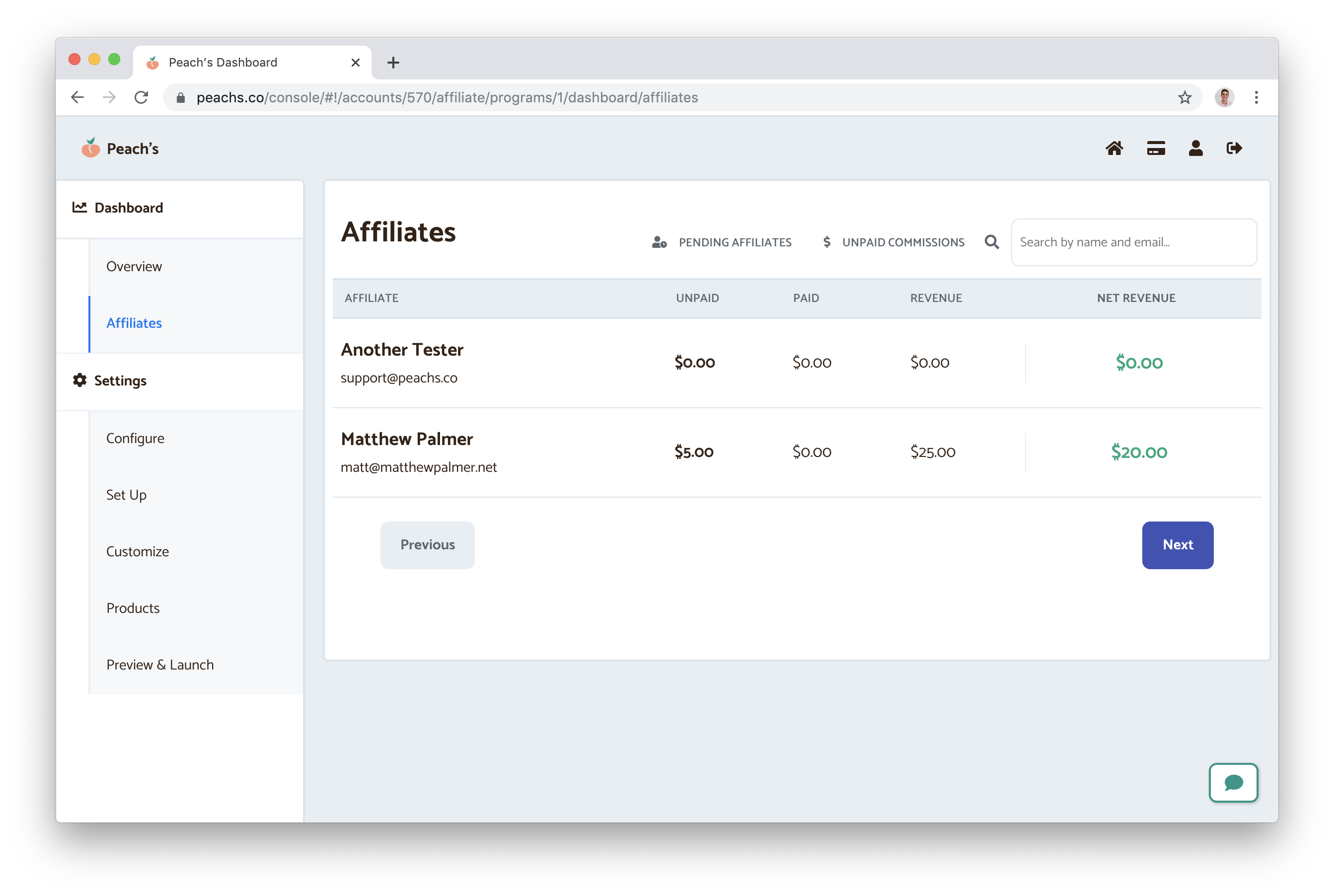 If you'd like, you can also set up promo codes for your affiliates, custom landing pages, and vanity URLs. You can manage these by selecting an affiliate from your Affiliates tab and clicking 'Settings.' Scroll down to the Alternate Tracking Methods section to set up discount codes, custom landing pages, and custom redirects for the affiliate.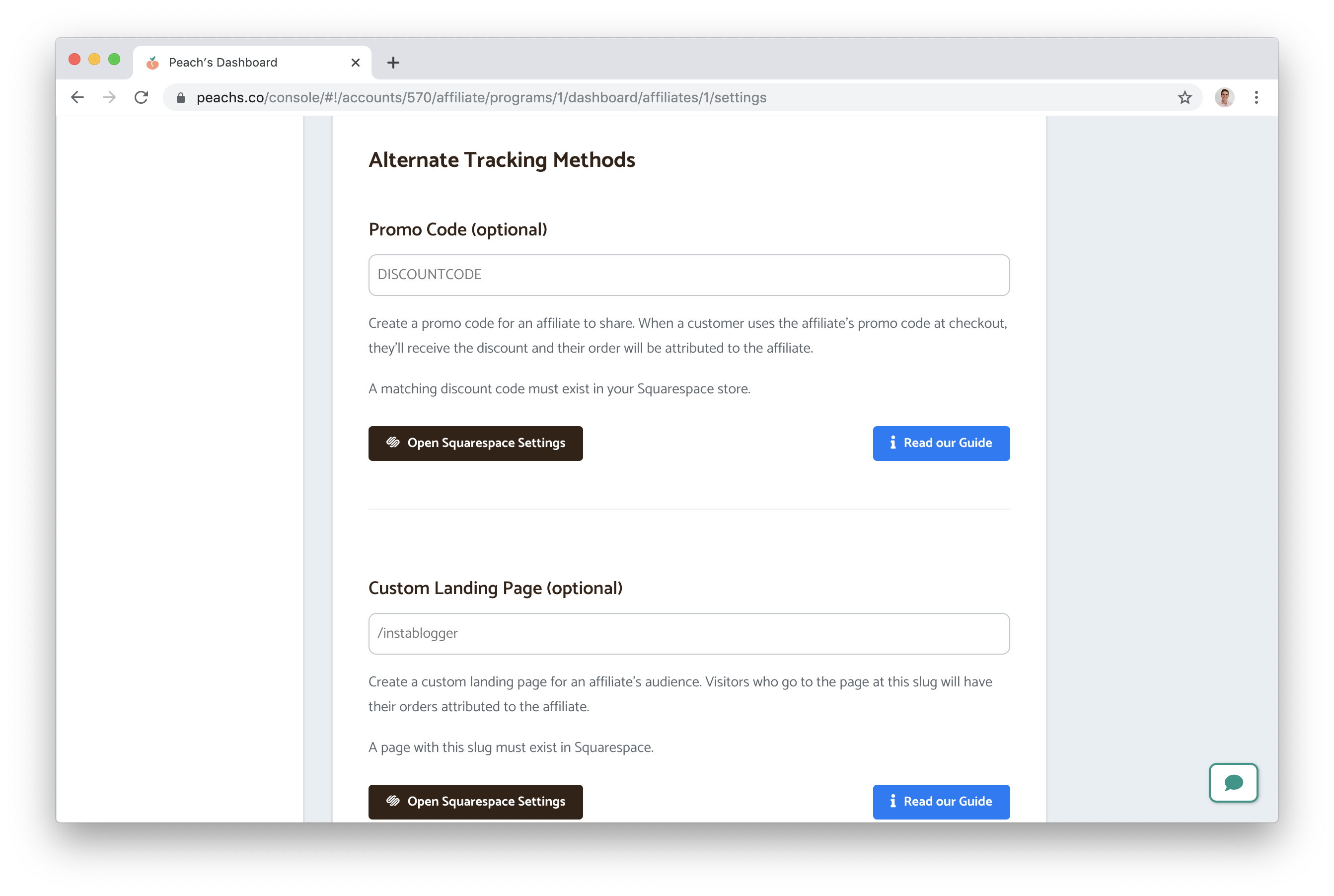 Your affiliate program is live, customized to your brand, and ready to start generating extra revenue.
Contact us at [email protected] if you have questions at any time.